FINALLY BRILLIANT GRILL
You know it too, the grill grate just doesn't want to be completely clean! But that's not good, because every time we grill again, we take it unhealthy substances to us. This has an end now!
No more scrubbing
It will never get really clean with a normal brush and you will waste valuable time. The Grill Master brush saves you a lot of time and cleans perfectly.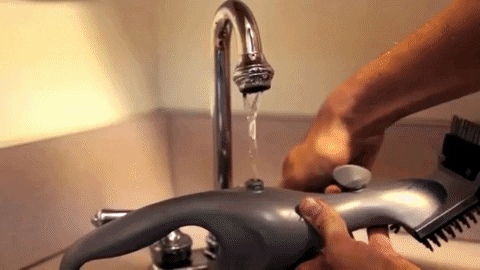 HEALTHIER FOOD
The black remains are carcinogenic and should not to be eaten However, this cannot be avoided if the grillage is not properly cleaned. So clean the grate properly!
NO MORE CHEMICALS
Use no cleaners or chemicals more to keep your grill clean!
CLEAN WITHOUT DAMAGE
She will be yours Make the grill sparkling clean without leaving scratches or damage.
SIMPLE APPLICATION
Simply fill the provided integrated tank with water and you're ready to go! As soon as you have filled the tank with water, you can start. Simply turn on the tap and the brush will be supplied with water.
DOUBLE CLEANING
A coarse and fine brush ensure perfect cleanliness.
Product features:
Material: stainless steel, ABS
Weight: 400g
Order now and get the product today

special offer

including free shipping!
ALPHADEALS24 SATISFACTION GUARANTEE
We are very convinced of our product and we are sure that you will love it.
If you are still not 100% convinced, just send us a message and we are guaranteed to find a customer-friendly solution..